Michael Page are pleased to announce that we now have a structure that allows us to place temporary candidates with our clients without the client having to sponsor the candidate or provide them a visa. We take care of all the paperwork and all you get is a weekly invoice
You should not value a company by its 'financials', but by it's staff's perceptions and capacities. Have you ever wondered why share prices fluctuate so wildly? It obviously has nothing to do with the 'real' worth of the company.
Employee retention is important for any business, but some do seem to continually get it wrong. Even big name, household brands - who have no trouble in attracting talent - fail to have a successful talent management strategy in place.
Q1 2019 Job Market Survey
How are job seekers actually feeling about their chances of securing a new role, landing a pay rise or learning new skills? How positive do they feel about the economic situation? This is what we set out to discover with our Job Confidence Index, a global measure of how optimistic job applicants are about the current employment market.
The Michael Page Job Confidence Index is a quarterly barometer that measures the perception of candidates about their job situation and the labour market. The data is collected on voluntary basis from candidates who applied for a job offer or submitted their CV on Michael Page.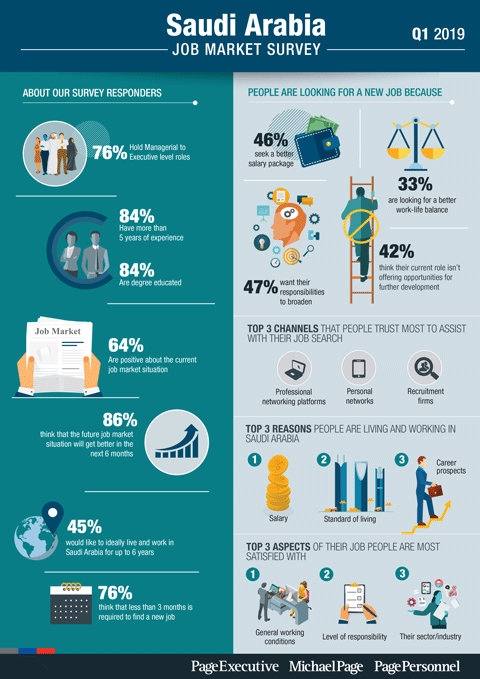 Saudi Arabia
: Aligned with the key pillars of the Kingdom's Vision 2030 i.e. providing equal opportunities and attracting talent, as a recruitment firm, Michael Page continues to play a crucial role in shaping the talent pool in the Saudi Arabia. In line with the Kingdom's Vision 2030, the bulk of the hiring is taking place in Financial Services, Property & Construction, Strategy, Project Management Office and Tourism.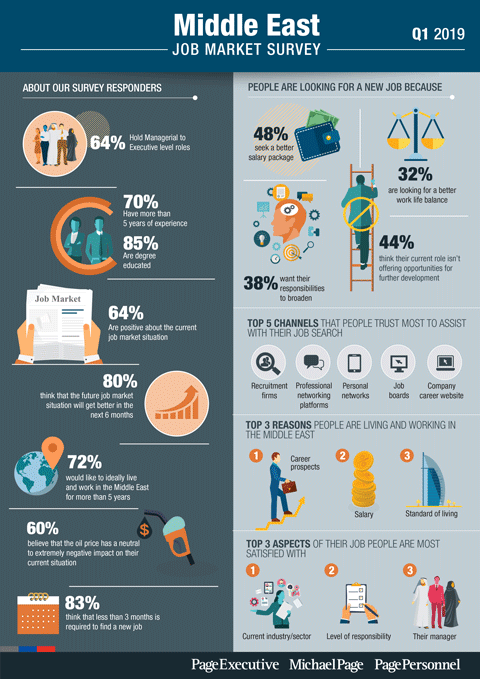 Middle East
: The survey results highlight that 72% of respondents would like to live and work in the Middle East for more than 5 years. There is more talent on the ground committing their careers and long term future to the region than ever before, so tax free salary is no longer enough to attract and retain the best people. Over and above salary, skilled talent in the region are looking for opportunities that challenge their critical thinking and creativity, flexible work environments to improve work-life balance, mentorship programmes, benefits/rewards for hard work.