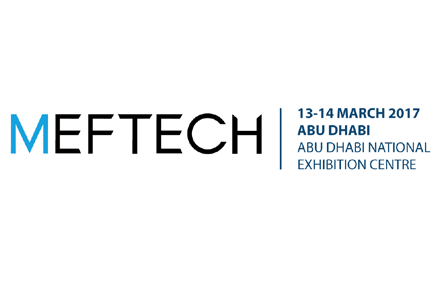 As the official recruitment partner of MEFTECH, Michael Page Middle East would like to invite you to attend the event on 13 and 14 March 2017 at the Abu Dhabi National Exhibition Centre.
MEFTECH (Middle East Financial Technology Exhibition & Conference) is the largest and most prestigious event that convenes the entire financial technology community from across the Middle East and North Africa (MENA) region. Featuring industry-leading conferences, a tightly focused trade exhibition and much more, MEFTECH is the definitive platform where top decision-makers share insights with technology providers and collaborate to rethink financial services. Year after year, MEFTECH attracts the financial industry's best and brightest minds, serving as a conduit for innovative ideas and thinking.
Featured Speakers:
Chris Skinner, CEO, Thefinanser.com

JP Nicols, Bank Innovation Consulting Expert, jpnicols.com

Jim Marous, Owner, Digital banking report

Eleni Kitra, Regional Head of Financial Services, Facebook

Enjoy free entry to:
The Exhibition: New ideas, new inspiration and game-changing solutions from 50+ Fintech vendors in the exhibition.
The Conference: Download global leader insights on key trends and disruptive technologies that will reshape the industry for 2017 and beyond.
Idea Exchange: Debate with peers the latest views and approaches to blockchain systems, digital engagement, security, unified platforms and much more.
Global Influencers: Looking at how to harness next-gen innovations to drive profitability and growth? At MEFTECH engage with 3 of the world's most influential Fintech experts.
Unrivalled Networking: Want to meet with the CIOs from QIB, FGB, ADIN, Kuwait Bank? How about the Innovation Lead from ADCB, or the CEO from Aljazira Capital? Join them and hundreds more for true power networking.
Disruptive Trends: Blockchain technologies continue to dominate discussion, meet the leading vendors and global experts for this and other game-changers in two days and future-proof your strategy.